430-460
L/TON
YIELD OF CORN
ETHANOL
FQPT has developed the WFS system , wich consists on making multiple corn products on a dry mil ethanol process. To attend the South America Market , where the sugar-cane mills suffers with the off season problem, FQPT has proven the application of the WFS co-located at a sugar-cane mill to process corn for ethanol production.
A common ethanol production produce ethanol and DDG, wich is a product destined to animal nutrition of cattle. The flex plants, with FQPT system, allows that besides ethanol and DDG, the plant to produced oil and corn protein, also enabling the plant to operate in full capacity through the entire year: season and off season, without altering nothing on the process of the sugarcane.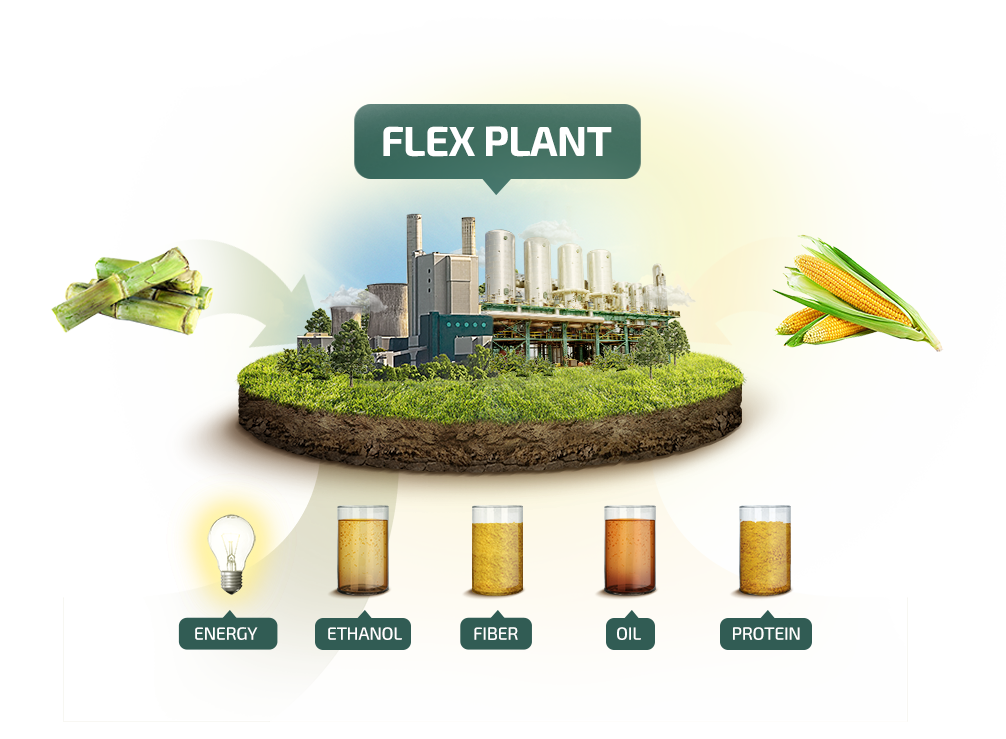 KNOW THE BENEFITS
OF WFS™ TECHNOLOGY
• 430-460 L/MT yield of corn ethanol
• Remove corn fiber before fermentation
• Use of existing sugar cane mills fermentation, distillation, and evaporation systems
• Allows mills to process corn duriing season and off season
• Produce high steam corn oil in pre-fermentation
• Produce high protein Still Pro 50 after fermentation
• Increase the fermentation capacity to total distillary use
• Payback from 2 to 3 years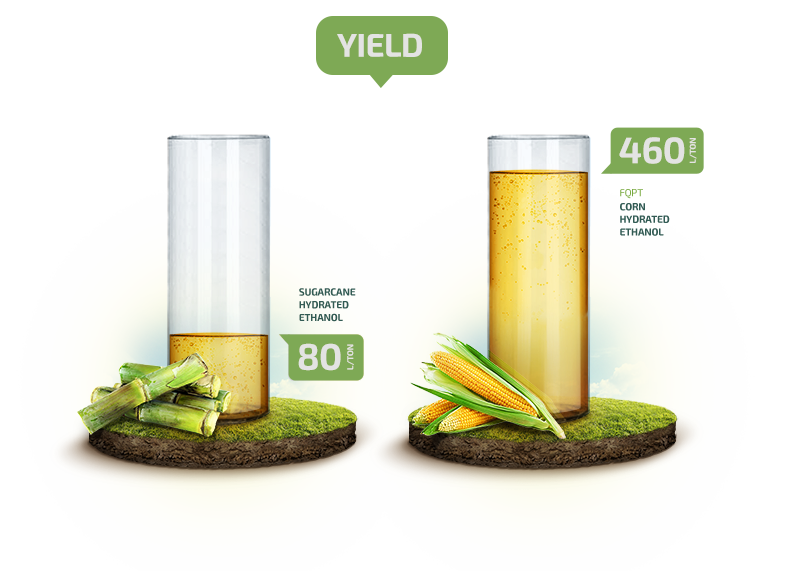 LOW ATR AND RAINY DAYS
WILL NOT BE A PROBLEM
As the standard FQPT process removes corn fiber prior to fermentation, we have developed a solution that allows corn sugars to be fermented in exactly the same way as sugarcane sugars, optimizing the process on rainy days and days of low ATR.
We have adapted our process so that the sugar cane mill does not have to adapt. This will allow the plant to process 100% ethanol, which will significantly improve its profitability.
SGT ™
FQPT has the SGT, a selective grinding patented system, in wich the wet grinding is made in the liquefaction. This mill liberates more starch so it can be converted into sugars.
The plants that operates with this system achieve higher ethanol yields (from 3 to 5%), higher oil yields, besides reducing the enzimes consumption. On South America the corn is harder, herefore the SGT yield in that region can bump the yields to 7% more, which will be in a range of 430 to 460 liters hydrous ethanol per ton of corn at 15% moisture.
FBP ™
FQPT has developed the FBP to remove the corn fiber before fermentation. This way, the sugar cane mills can use the existing fermentation, distillation, and evaporation systems.
The corn fiber is sold to animal nutrition, similar to corn gluten meal.
BOS ™
FQPT has developed BOS for oil recuperation from liquefaction. This low FFA oil can be destined to animal nutrition or chemical uses. The total oil yield (front-end + back-end) on FQPT process can exceed the 18kg/ton.
MSC ™
The MSC system created by FQPT to produce protein after fermentation. Is a 50% purity protein product and is negotiated as a protein of high value in the corn gluten and brewer's yeast Market.